At AAMCO Colorado, we love watching cars on TV and in movies as much as you do. But we also want your vehicle to drive in a safe and properly operating condition.  If you live in  Colorado, and need a Transmission Service,  Radiator Repair, JaBrake Repair,  or any other Auto Repair, please contact your local AAMCO Colorado Location to schedule an appointment.
Everybody overheard at one point or another guys saying they don't care what kind of car they're driving as long as it gets them from one place to another. Do you believe that? Cause we definitely don't!. Wouldn't everyone like to have a car that received more attention the lingerie models? Well, we decided to make an article with the cars that should be on everyone's mind . These are the Top 7 Classic Cars That Invented Cool.
1966 SHELBY 427 COBRA
Ever heard of  Carroll Shelby? If not, please check her out. this name is instantly worth your time. With immense power to weight ratio, the Shelby 427 Cobra has a little more horsepower than your Corolla. In addition, the hundreds of thousands of dollars you'd pay for one will seem like spare change compared to the $5.5 million that you need to put out for the 1966 Shelby 427 Cobra Super Snake.
1969 FERRARI DINO 246 GT


Initially produced as a relatively low cost sport car this car was lauded for its impeccable driving and groundbreakind  desingn. Most cars have angles and lines that are harsh and, unless there's something big and insane under the hood, they lose their meaning and become a clone of something else . The Ferrari Dino 246 GT has very gentle curves and lines, it tells us this car is meant to be driven fast and in style.
1964 ASTON MARTIN DB5
Know you may have seen the movie Goldfinger, yes I am talking about the James Bond series, and yes again, this is the model of Aston Martin he drove. So definitely if it's cool enough for Bond, it's cool enough for us and our article. If you had to pick one vehicle from  that what James Bond drove, you would be very, very inclined to pick the DB5. Now seriously, how cool would it in your garage?
1969 DODGE CHARGER
One thing we know for sure when we are talking about the 1969 Dodge Charger, it has amazing aerodynamics. The '69 Charger is a thing of beauty and raw power whether it's a General Lee or just something else. It may never get the billing its Mustang counterparts always do, but the fastback look and all American style will never go out of fashion.
1969 CHEVROLET CAMARO
It's a pretty simple deduction that this list would include at least one Mustang and one Camaro. What can we say that has not been already said, we like old-school American muscle power. Seeing those white stripes on a blue Z28 just strikes fills our heart with warmth and just makes you yell " Hell Yeah!"
1961 JAGUAR E-TYPE
Whether you pronounce it Jagwar or Jag-u-ar, you could sum up this car in one word classy.  Everyone agrees that this car manufacturer inspires style. The E-Type was released in 1961 to some pretty heavy praise. If Enzo Ferrari called it , "The most beautiful car ever made," well, this car definitely belongs in this article without any saying.
1969 BOSS 429 MUSTANG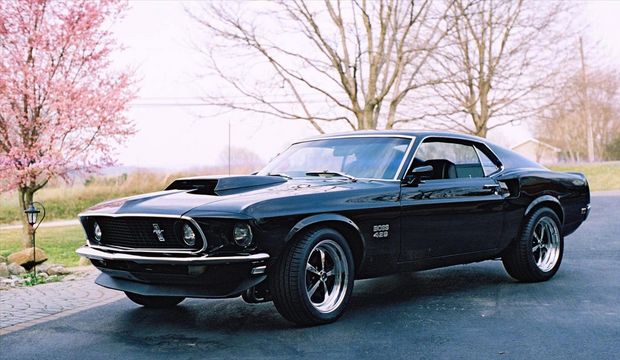 Ever wondered why when ridding a '69 Boss 429 Mustang they always roll down the windows? Well it's not only for looks due to the share size of the engine, the Boss 429 Mustang didn't have sufficient space for any air conditioning.
And with this been said, this concludes our article for today. Hope you enjoy it
Featured images:
License: Image author owned

License: Image author owned

License: Image author owned

License: Image author owned